Artist Bio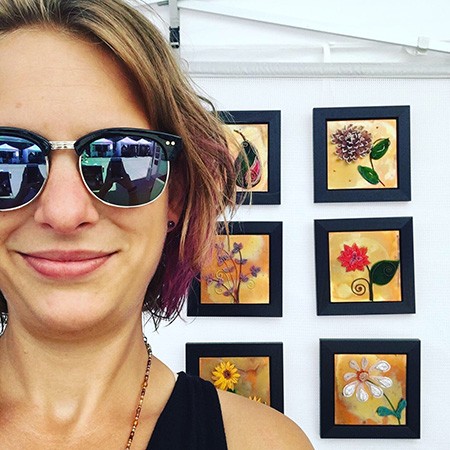 "An exploration of vibrant and lush floral life against the fading vibrancy of copper backgrounds. I create flower-inspired wall sculpture using traditional beading and wire techniques."

Amy has been playing with beads since the 5th grade. In 2001 she was gifted a bouquet of French Beaded Flowers and became super inspired. Not long after she started creating her own.
In 2015 she wanted to explore more layering of petals and finer details that traditional French Beaded Flowers didn't allow. She started creating larger flowers laying flat with lots of layers and shading with many different kinds of seed beads. She uses heat patinated copper sheet as her backgrounds, keeping each piece unique and ever evolving as it slowly oxidizes.
More recently her flowers have become more sculptural and 3 dimensional. She still enjoys experimenting with layers and shading but the third dimension is a new facet she's enjoying exploring.